Our Products
Cat cages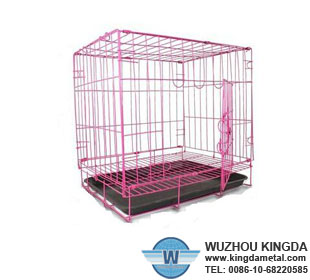 Cat cages
Category:Animal Cages
Material:iron wire
Properties: durable in use and easy to clean
Application:have enough space to feed cat, dogs, small or middle size animals, which can make your room clean

Inquiry now
or

Send email
Mesh Description
Contact Form
Recommend Products
Cat cages
The specifications of Cat cages
1. The materials of Cat cages: iron wire
2. Finishing: powder coating
3. Color: pink or blue
4. Size: 35*25*35cm, 50*35*41cm, 60*445*45cm
The features of Cat cages
1. Cat cages can be stackable, which can save a lot of space.
2. Cat cages are durable in use and easy to clean.
3. Cat cage s are hygienic and environment friendly.
The applications of Cat cage
Cat cage have enough space to feed cat, dogs, small or middle size animals, which can make your room clean.
If you are interested in our products, please feel free to contact us. TEL: 0086-10-68220585. Email: sales.wzjd@gmail.com