Our Products
Large animal metal cage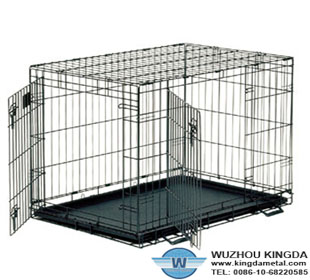 Large animal metal cage
Category:Animal Cages
Material:iron,Stainless steel
Properties:foldable,convenient to install and easy to clear
Application:used as dog cages,bird cages,rat cages

Inquiry now
or

Send email
Mesh Description
Contact Form
Recommend Products
Large animal metal cage
The specifications of large animal metal cage
1. The material of large animal metal cage: Iron / Stainless steel
2. Dimension: different sizes as requested
3. Treatment: powder-plating, chromed-plating, golden-plating.
4. Inner packing: polybag
5. Outer packing: carton
The features of large animal metal cage
1. It is foldable, convenient to install and easy to clear.
2. Every side is single, so it is easy for transporting.
3. Light weight: the cages are welded by good quality iron wire, low carbon steel wire.
4. Each cage with plastic tray makes the cage easy to clean.
5. Color: white, black, blue, green, red, pink etc.
6. Quality standard: our product has the CE certification, and the qualification for testing lead and zinc.
The applications of large animal metal cage
Large animal metal cage can be used as dog cages, bird cages, rat cages, hamster cages and so on.
If you are interested in our products, please feel free to contact us. TEL: 0086-10-68220585. Email: sales.wzjd@gmail.com