Our Products
Soup spice ball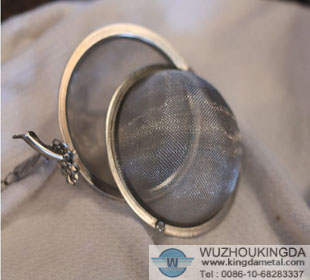 Soup spice ball
Category:Other Deep Processing Products
Material:low carbon steel wire, stainless steel wire
Properties:Features a chain to suspend into hot beverages
Application:Perfect for making mulled wine, or adding flavor to soups and stews

Inquiry now
or

Send email
Mesh Description
Contact Form
Recommend Products
Soup spice ball
Material: low carbon steel wire, stainless steel wire
Surface treatment: chrome plated, electro polishing
Features of the soup spice ball:
•Easily clamps tight to keep tea or spices secure.
•Features a chain to suspend into hot beverages. Ideal for spices or loose leaf tea.
•Lid has twist lock mechanism so it will not come apart during infusing.
Applications of the soup spice ball
Perfect for making mulled wine, or adding flavor to soups and stews
A few other tea infusers were founded that could work well with spices too, including a couple of heart-shaped versions. A little cheesy, sure. But it could be a cute little Valentine's Day gift for a tea or spice lover.
Do you use a bouquet garni to flavor your soups? If so, try tucking them into a tea ball instead of cheesecloth.
If you are interested in our products, pls feel free to contact us. TEL: 0086-10-68283337, Email: service.wzjd@hotmail.com