Our Products
Perforated soup spice ball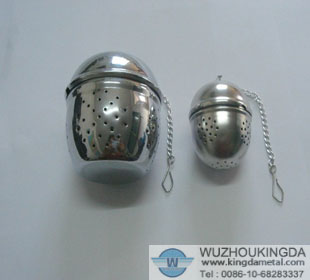 Perforated soup spice ball
Category:Other Deep Processing Products
Material:low carbon steel wire, stainless steel wire
Properties:Easily Clamps Tight to Keep Tea or Spices Secure
Application:Used for making soup stock, mulling cider, or steaming small portions of rice or vegetables

Inquiry now
or

Send email
Mesh Description
Contact Form
Recommend Products
Perforated soup spice ball
Material: low carbon steel wire, stainless steel wire
Surface treatment: chrome plated, electro polishing
Features of the perforated soup spice ball:
Easily Clamps Tight to Keep Tea or Spices Secure
Sturdy Clamp Holds Ball Together
Features a Chain to Suspend into Hot Beverages
Applications of the perforated soup spice ball:
Great for cooking and kitchen;
Use to easily strain tea, spice and herbs
Used for making soup stock, mulling cider, or steaming small portions of rice or vegetables
Open the sphere. Into the spice, the fragrance of the spice spread out to the simple, clean and practical. Spice into the sphere placed in the cup after brewing, the spice capacity into the cup, allowing you to drink leisurely.
If you are interested in our products, pls feel free to contact us. TEL: 0086-10-68283337, Email: service.wzjd@hotmail.com