Our Products
Tea sieve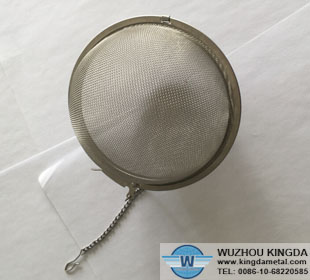 Tea sieve
Category:Other Deep Processing Products
Material:stainless steel 304
Properties:made for grade material, so it is durable in usemake loose tea so easy and you can enjoy brewing tea process
Application:features a chain to suspend into hot beverage or tea ideal for spices or loose leaf tea easily

Inquiry now
or

Send email
Mesh Description
Contact Form
Recommend Products
Tea sieve
The specifications of Tea sieve
1. The materials of Tea sieve: stainless steel 304
2. Finishing: polishing
3. Size: various sizes can be chosen
1. Tea sieve has the firm structure and beautiful appearance.
2. Tea sieve can make loose tea so easy and you can enjoy brewing tea process.
3. Tea sieve is made for grade material, so it is durable in use.
Tea sieve features a chain to suspend into hot beverage or tea ideal for spices or loose leaf tea easily.
If you are interested in our products, please feel free to contact us. TEL: 0086-10-68220585. Email: sales.wzjd@gmail.com