Our Products
Stainless steel egg whisk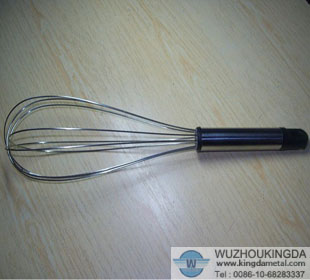 Stainless steel egg whisk
Category:Other Deep Processing Products
Material:stainless steel wire
Properties:Easy and safe to use and wash
Application:widely used for beating egg, easy to use and store

Inquiry now
or

Send email
Mesh Description
Contact Form
Recommend Products
Stainless steel egg whisk
1) Stainless steel head and handle
2) Many sizes (9'', 12'', 14'', 16'', 18'')
3) Resistance to high degree and impact
4) No rust or discolor
5) Easy and safe to use and wash
6) Hanging ring for storage
7) Bottom circumrotate to beat the eggs
For above information, it's just for you reference. IF you want to know more detail information about it, pls don't hesitate to contact us.
Our products are stylish, beautiful, durable, qualified, just-in-time lead time. We can supply you the products with competitive price, good quality, and professional and satisfy service.