Our Products
Magazine wall rack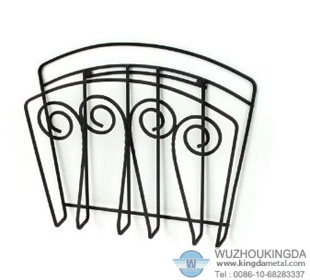 Magazine wall rack
Category:Racks and Shelves
Material:low carbon steel wire
Properties:keep their collections of magazine out of their children's reach.
Application:perfect storage solution for keeping reading materials organized

Inquiry now
or

Send email
Mesh Description
Contact Form
Recommend Products
Magazine wall rack
Material: low carbon steel wire
Surface treatment: PVC coated, powder coated
Applications of the magazine wall rack:
A wall mount magazine rack is a perfect storage solution for keeping reading materials organized but with easy access to them.
Another reason why most people preferred using wall mounted magazine racks is to keep their collections of magazine out of their children's reach.
The benefit of having a wall rack that can be mounted high on a wall is that magazines are kept out of reach from children that might cause them damage. As an added benefit, wall mount magazine rack can also save your time.
If you are interested, please feel free to contact the following: TEL: 0086-10-68285557 E-mail: service.wzjd@hotmail.com