Our Products
Dish dryer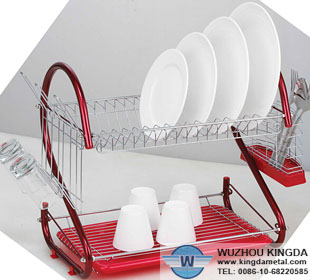 Dish dryer
Category:Racks and Shelves
Material:iron wire and stainless steel
Properties:save space and have big storage capability
Application:multi-functional dish rack to organize dish, cup, and knife and bowl well

Inquiry now
or

Send email
Mesh Description
Contact Form
Recommend Products
Dish dryer
The specifications of Dish dryer
1. The materials of Dish dryer: iron wire and stainless steel
2. Finishing: chrome plating and polishing
3. Size: 56*25*40cm
4. Packing: poly bag and carton
The features of Dish dryer
1. Dish dryer is very convenient for you, and makes your kitchen more beautiful
2. Dish dryer is easy to assemble, no tools required.
3. Dish dryer can save space and have big storage capability.
4. Dish dryer has the firm welding and nice handcraft.
The applications of Dish dryer
1. Dish dryer is a multi-functional dish rack to organize dish, cup, and knife and bowl well.
2. Dish dryer can make the dishes in order, which can keep the kitchen clean and tidy.
If you are interested in our products, please feel free to contact us. TEL: 0086-10-68220585. Email: sales.wzjd@gmail.com