Our Products
Metal trays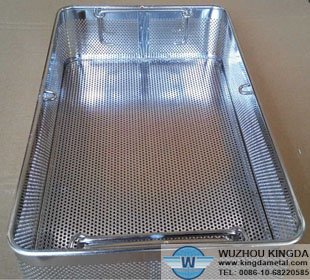 Metal trays
Category:Mesh Baskets
Material:stainless steel 304
Properties:smooth surface, anti-high temp, stable structure
Application:in hospitals, laboratories, workrooms etc, for the work of sterilization

Inquiry now
or

Send email
Mesh Description
Contact Form
Recommend Products
Metal trays
The specifications of Metal trays
1. The materials of Metal trays: stainless steel 304
2. Finishing: electrochemical polishing treatment technology, surface bright as a mirror
3. Packing: carton, tray, standard packaging
The features of Metal trays
1. Metal trays have the smooth surface, anti-high temp, stable structure.
2. Metal trays are anti-rust, toxic and tasteless, long lasting lifetime.
3. Metal trays are propitious to Hygienic and environmental protection.
The applications of Metal trays
Metal trays are widely used in hospitals, laboratories, workrooms etc, for the work of sterilization, washing and storage.
If you are interested in our products, please feel free to contact us. TEL: 0086-10-68220585. Email: sales.wzjd@gmail.com