Our Products
Oil Filtration Filter Element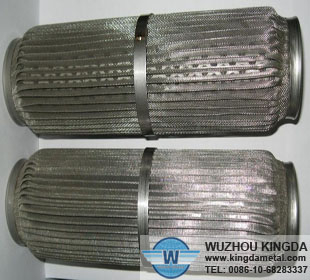 Oil Filtration Filter Element
Category:Filter Screen
Material:316L Stainless Steel
Properties:Wide chemical and temperature compatibility
Application:Metallurgy, petrifaction, spinning, electron & pharmacy

Inquiry now
or

Send email
Mesh Description
Contact Form
Recommend Products
Oil Filtration Filter Element
Oil Filtration Filter Element characteristics:
Made of single layer or multi-layer metal mesh and filter material, layer number and constitute a wire mesh according to different conditions of use and purpose, with the heart rate is high, the pressure big, straight degree good, stainless steel material, with no burr, ensure long service life.
Oil Filtration Filter Element Materials of Construction
Item Materials
End Caps / Support Cage Stainless Steel 316
Support / Drainage Layers 316L Stainless Steel
Medium 316L Stainless Steel
Gasket Viton A**
Feature of Oil Filtration Filter Element:
1. Wide chemical and temperature compatibility
2. Can separate liquids that have low interfacial tension
3. Coalescence performance not impaired by the presence of surfactants or corrosion inhibitors
4. Long service life
5. No need to purchase new capital equipment
Application Fields of Oil Filtration Filter Element:
Metallurgy, petrifaction, spinning, electron & pharmacy, power generation & nuclear power, machining equipment, train internal-combustion engine & generator, auto engine.
If you are interested, please feel free to contact the following, Tel: +86-10-68283337, Email: sales@kingdametal.com